Foto van de maand maart 2003 - below 30 degrees.....Viljo en Taneli


Met toestemming van - Mit Erlaubnis - Published with permission of: Erkki and Arja Lehti, Järvenpää, Finland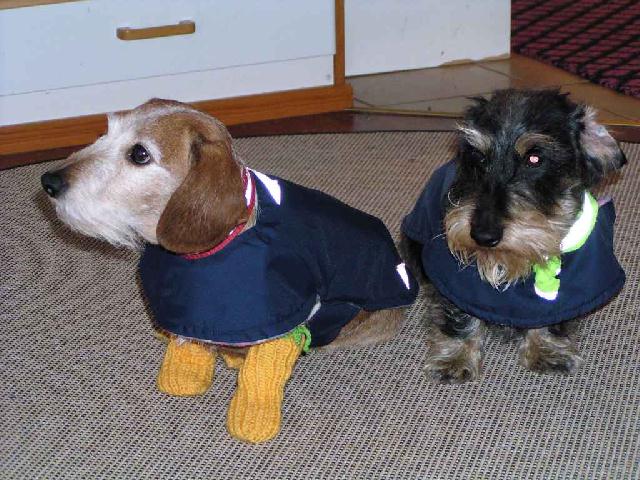 We went for a short skiing vacation just before New Year to Tahko, which is about 500 km from Helsinki near Kuopio. At that time we had already had continously a temperature below -20 degrees for about week. In Tahko the temperature went to -30 degrees which meant that we could go skiing for a maximum of 2 - 3 hours per day and the dogs couldn't walk more than one minute before they begun jumping with three legs. They already had those coats, but they didn't warm enough. Taneli was freezing more than Viljo, because he has shorter hair. When we came back home and the cold weather continued, we decided to do something, because the dogs were going nuts living only inside the house. My daughters made those socks for Taneli and you should have seen him walking at first: he raised his legs very, very high as in thick snow. Anyway, he got used to the socks very soon and walked quite normally after a while. Regrettably the socks didn't stay very well and we almost lost one of them when we had been walking in the evening when it was dark. Now there has been warmer weather (between -5 and -15) so the dogs only use the coats and are very happy about walking.